The Voices Project
Inspired by my own mother and her involvement in civil rights and anti-racist organizing, I am setting out to conduct interviews with white women ages 65 and older about their past experiences fighting white supremacy and for a more just world. I feel a hunger and need for these stories personally; I know in my own life, hearing from my mother was one of the primary forces compelling me to commit to a life of both trying to unlearn and trying to fight racism and oppression. I started this project interviewing white women to show other white women, like me, what is possible. All accounts of the Civil Rights Movement should center Black women's stories, in my opinion - stories that, while not mine to tell myself, I hope to include them in short order. The purpose of this project is to inspire solidarity work in white women like me - not to claim leadership roles of what was inspiring Black-led work. Because I definitely want to also hear more stories from Black women involved in the Civil Rights Movement, I am looking to find a way to broaden once the project is off the ground. Follow this space where we will regularly be adding interviews from incredible people whose voices are important as we try to build an anti-racist future and learn from their wisdom. Thanks for checking it out.
Katy
---
Carol J. Adams interview (April 17, 2019)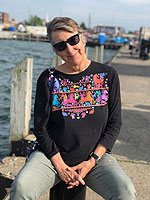 Photo by Benjamin Buchanan
Carol J. Adams is the author of The Sexual Politics of Meat, now in a 25th anniversary edition; Burger, in Bloomsbury's Object Lessons Series; co-author with Virginia Messina of Protest Kitchen: Fight Injustice, Save the Planet, and Fuel Your Resistance One Meal at a Time and many other books. She has edited several important anthologies on ecofeminism, feminism, and animals. Her articles have appeared in the New York Times, the Washington Post, Ms. Magazine, The Christian Century, Tikkun, and Truthdig, among others. She has been an activist against domestic violence, racism, and homelessness, and for reproductive justice and fair housing practices. Her writings are the subject of two anthologies, Defiant Daughters: 21 Women of Art, Activism, Animals, and The Sexual Politics of Meat and The Art of the Animal: 14 Women Artists Explore The Sexual Politics of Meat, in which a new generation of feminists, artists, and activists respond to Adams's work. www.caroljadams.com
---
Ann Reeves interview (March 26, 2019)
Ann Reeves has been committed to peace and justice activism since the 1960s, encouraged by a special childhood friendship, her mother's example, and older siblings who positively influenced her beliefs and choices. In the last several years, Ann has turned inward to investigate her own white privilege more deeply and honestly, understanding more deeply the role of institutional racism and the ways we inadvertently support it. Ann is a licensed psychologist in private practice in Wilton, Ct.
---
Linda Green interview (March 15, 2019)
Linda Green, MD is a 73-year-old retired physician and long time member of the American Public Health Association who has been active in antiracist struggles since medical school at Duke University College of Medicine in the 1960s. At Duke she was a leader working with community members in Durham to develop a free clinic. She trained in internal medicine at New York Hospital and was active in the Medical Committee for Human Rights (MCHR) in calling for minority admissions to medical school. She did a medical oncology fellowship at Sloan Kettering and joined the faculty at Howard University School of Medicine. There she opposed overuse of standardized testing for promotion following the Bakke decision which sought to overturn affirmative action in medical schools. She practiced oncology at Group Health Association until 1993 and then joined the faculty at Prince George's Hospital Center until she retired in 2015. She was involved in campaigns against police brutality, to improve outreach and care for patients with HIV and Hepatitis C and more recently to improve job opportunities for formerly incarcerated persons in the Metro system and in Prince George's County, Maryland.
---
Arlene Dunn interview (March 14, 2019)
Arlene Wilgoren Dunn was born and raised in Boston. In 1957, as a junior in high school, she first began to understand American racism during the Little Rock 9 attempts to integrate Central High. In February 1960, her first demonstration was marching in front of Woolworth's in Harvard Square, to support the lunch counter sit-ins in the south. She later became involved with SNCC (Student Nonviolent Coordinating Committee), first as a volunteer, then as a field secretary in Arkansas in 1964-1965. She later joined People Against Racism (PAR), an organization aimed at educating and organizing the white community about racism in America.
---
Susan Balliet interview (March 13, 2019)
Susan Jackson Balliet grew up in a small town in Indiana in the late 50's early 60's. The summer of 1965, between her junior and senior year of college, she worked with SNCC, CORE, and LCDC in the Tallahassee law office of civil rights attorney John Due. Balliet's work that summer inspired her to become a public interest lawyer.
---
Ellen Isaacs interview (March 8, 2019)
Ellen Isaacs is a retired physician who became involved in anti-racist and anti-capitalist struggle in college in the 1960s and joined the Progressive Labor Party in medical school, having come to realize that racism and imperialist war could not be eradicated under capitalism. She is currently involved in campaigns against racist police killings in New York City and in the American Public Health Association and against the Israeli occupation of Palestine as a member of Jewish Voice for Peace.
---
Marcia Palof interview (December 7, 2018)
Marcia Palof is the Managing Attorney of Intake at the Legal Aid Society of Columbus. She received her J.D. from the The Ohio State University College of Law in 1980, and she began working at legal aid as a law clerk in 1978. She is on the Steering Committee of the National Coalition for a Civil Right to Counsel.